Albany AnthroCon 1997 Report
(or What I Did During my Summer Vacation)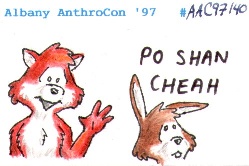 The Albany AnthroCon was my first con so I thought I would be lonely or helpless or bewildered. Was I ever wrong! Thanks everyone, for making me feel welcome and showing me a good time. Also, as my memory isn't too good, especially in the midst of all the excitement, feel free to send me a note if I have forgotten something or someone.
Thursday, July 3
I started off from my home a little late because I wanted to collect my mail and do some last minute packing. I finally started off up Route 17 and into the Thruway past 3 o'clock. I reached the Omni Albany in the evening after getting lost in Albany. (missed the State Street junction) You'd think someone from New Jersey wouldn't get lost anywhere but then again, I don't live in Jersey City. :)
I met Richard de Wylfin near the front door while checking in, and Mike Curtis and David Pulver in the elevators. I guess I was tired from the two-hour *chuckle* drive, but I didn't realize David was a guest at first. He was quite friendly and I got another chance to speak to him later at the end of the con.
After registering, there wasn't much else to do as most furs I knew hadn't arrived yet. So, I went out for a walk, bought a street atlas and a local newspaper, and had dinner at a nearby Chinese restaurant. (My New York City training makes me roam around a little.) Then I used the gym for a short while (burned 12 whole calories! hehe), went back to my room, showered, and did some art on my con badge and in my sketchbook (I never had time to finish the latter throughout the con) while watching TV.
Friday, July 4
What a day! I brought out my hand-stitched furry white tail and wore it around the con. I met Willysilver, Foxwolfie Galen, Mejeep, Ratman, Dr. Skorzy, Shawn "Leonid" Reed, Marc "Waccoon" Leveille, and many others.
I watched part of Heavy Metal in the video room and had a quiet early lunch at Fitzgerald's. (Come on. It isn't that expensive for an all-you-can-eat.) I attended some panels, and learned a thing or two at the one on pencilling. I also bought two really cute plushies from Mejeep at the plush gathering.
Then I went to Steve Plunkett's Puppet Show and really enjoyed it. I also got to use one of the terminals in the Internet Room and read the fifty pieces of e-mail that had accumulated. And I also popped into the Dealer's Room briefly and bought a ton of comics from Ed Zolna. I liked the Mike Kazaleh books.
That evening, I visited Skorzy, Brer Foxxe, Shawn Reed, and Will Sanborn in their room. I got to hold one of Skorzy's pet rats, saw Shawn's picture collection on his computer, and read some Kevin and Kell. Then Skorzy, Shawn, Will and I went to the Empire State Plaza to see the fireworks. That was spectacular! It certainly has been a long time since I've viewed fireworks up close like that. After that, we had dinner in Kelsey's (the bar at the Omni) and went to see the special midnight screening of Men In Black at the Norma Jean theater. That was a great movie.
Saturday, July 5
That day, I went to the Super Sponsor Luncheon and met Tygger, Rigel, and Xydexx there. There were sandwiches and salad.
In the lounge, I met SCFAers Sully, Gene Catlow, and Amara. I also met Mike Russell and took a look at some of his beautiful embroidery. Sly Fox was there too in costume. I traded sketchbook sketches with Sully, Gene, Shawn Reed, Fuzzybear (Joel Butler), Prismo, and Jackrabbit. I also did a few other sketchbooks, and got paid a nice color pencil for one of those. I spent the whole afternoon drawing in the lounge and had a wonderful time.
I wanted to do some art at the live modelling session but it was canceled for lack of interest. So I bought takeaway from the Chinese restaurant, left it in my room (where it would be left uneaten for most of the night), and went down for a dip in the pool. I had some fun playing ball with some furs in the pool and we then listened to Dr. Sam "Kagemushi" Conway's stories beside the pool. Then I showered quickly and went to the Charity Auction and the Masquerade. I loved the costumes and after the show, I got to see how Korul's wings worked.
After that, I finally finished dinner and went down again to dance the night away at Club Fur. I don't think I was a very good dancer (heck, I never danced nightclub-style before) but I had a lot of fun and spent four hours there. Then I lounged around with Growl, Kitty, and many other Yiffnetters before going to sleep.
Sunday, July 6
Things were starting to slow down and some furs were leaving. I attended the inking panel and learned about a few techniques that I really should try. I attended the art auction and the con wrap-up (I met and chatted with Brent Edwards there. And yes, I had a few of the remaining pieces of chocolate too. Delicious!), and visited the Dealer's Room again before it closed. In the evening, I traded sketches with Hopper Roo. I stayed in the lounge for the pizza party, and met Kayakote and Dante (he's from New Jersey too) in the lounge. I did two whimsical sketches for Kayakote, and watched the Tygger and Jim Groat hijinks that night. I think I was a little worn out because I was rather quiet late that night, but I was happy.
Monday, July 7
Time to check out. I spoke with Sly Fox/Randy Fox in the lobby just before leaving. And of course, I got lost trying to find the thruway but there's nothing a little going around in circles can't fix.
All in all, it was a wonderful experience and I will most certainly attend the AAC again next year. I offer my thanks to all the con staffers, panelists, and volunteers for doing such a good job.